Graphic Design Courses
Learn more about Mission.
---
Develop Your Skills and Portfolio
Graphic Design Classes
Study Graphic Design, Multimedia, Digital Illustration, Web Design, and Web Development courses.
Graphic Design Classes
Once I found out that Mission offered online classes, I jumped at the chance and took courses in Photoshop, Illustrator, entry-level Graphic Design, and Photography, until there were no more online classes I could take. The positive energy and supportive environment I've experienced from fellow Graphic Design students is amazing.
Fidencio Enriquez '21
Graphic Design Graduate
Courses to Consider
See all our courses.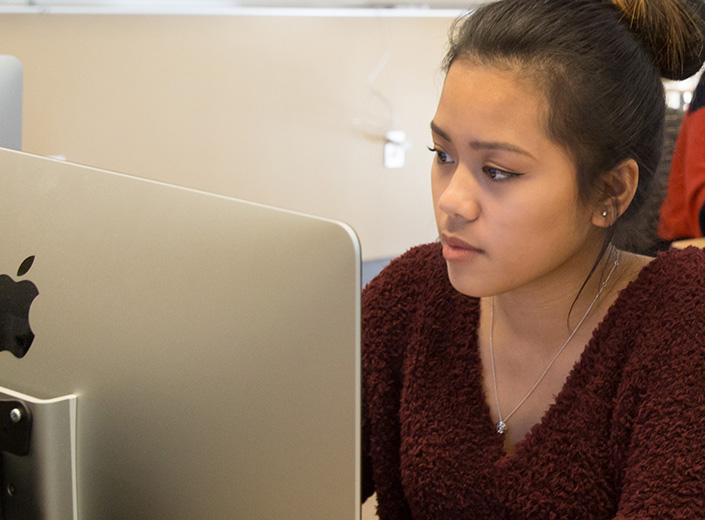 Adobe Illustrator (GDS 062)
A beginning digital illustration course for graphic designers, illustrators, and artists. Learn how to create original illustrations and designs using Adobe Illustrator.
---
User Experience Design (GDS 070)
Study interaction design, info architecture, user research, and UX planning.
---
Introduction to Adobe Photoshop (GDS 064)
A beginning course for graphic designers, artists, and photographers. Create original artwork, refine photographs, and manipulate digital imagery.
---
Graphic Design 1 (GDS 035)
Learn about the practical, artistic, and technical sides of Graphic Design. Gain the critical thinking and technical skills required for careers in Graphic Design.
---
Mobile Game Design (GDS 041)
Design, program, test, and publish a mobile game.
---
JavaScript 1 (GDS 089)
Develop interactive web pages using JavaScript programming.
---
---
Flexible and Affordable Training
Pursue your passion for web development, graphic design, typography, photography, and video production.
We offer training in industry standard software applications like Adobe Photoshop, Adobe Illustrator, Adobe InDesign, as well as other apps like Sketch, and Axure RP. Take classes on your schedule, online classes, in the evening, or in-person.
Work with real clients in Silicon Valley.
Earn an Graphic Design associate's degree or certificate.
---
Skills Needed
Excellent IT skills, especially with design and photo-editing software.
Exceptional creativity and innovation.
Adobe Creative Suite.
Excellent time management and organizational skills.
Accuracy and attention to detail.
An understanding of the latest trends and their role within a commercial environment.
Professional approach to time, costs and deadlines.
Careers in Design
At Mission College, we facilitate degrees and certificates in Digital Illustration, Graphic Arts, Web Design/Development, and Multimedia. Develop a portfolio and prepare for transfer or job interviews. Read more.
Graphic Designer
Creative Director
User Experience (UX/UI) Designer
Production Artist
Product Developer
Art Director
Marketing Specialist
Multimedia Artist / Animator
Freelance