What Can You do with a Graphic Design Degree?
The sky's the limit. Do you want to be a graphic designer? A user experience designer? A web developer? Get started with one of our flexible and high-quality degrees or certificates.
---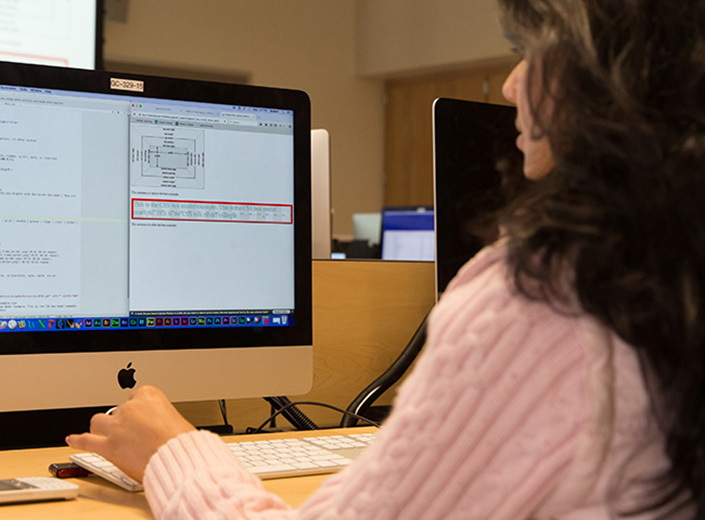 Graphic Design Certificates and Degrees
We prepare our students for graphic design jobs through hands-on training and mentorship.
Bay Area Graphic Design, Web Design, and User Experience Classes
If you live in Santa Clara, San Jose, Silicon Valley, or anywhere in the Bay Area, consider taking graphic design courses at Mission College.
Plus, our neighbors include Silicon Valley industry giants like Apple, Facebook, and Google. We offer degrees and certificates in Graphic Design, Digital Illustration, UX Design, Web Development, and Web Design.
One advantage of taking community college classes to begin your design school journey is the opportunity to save big. At only 46 dollars a unit, you won't have to worry about student debt. Even in comparison to a four-year state school like San Jose State University, our highly-relevant courses are extremely affordable.
Furthermore, if you're considering attending Mission as a working adult, single parent, or part-time college student, you're in good company. Seventy-eight percent of our students attend part-time.
So, what can you do with a graphic design degree? To start, consider the types of courses available. At Mission College, we facilitate degrees and certificates in Digital Illustration, Graphic Arts, UX & Interface Design, Web Design/Development, and Multimedia. By figuring out which of these courses are most enjoyable, you'll be off to a solid start.
---
1. Graphic Designer
Working with images and text, graphic designers communicate ideas and information in an almost unlimited amount of professional settings.
You may layout a magazine, or produce graphics for a website. You may design billboards, create logos, produce advertising, or work directly with clients.
While qualifications vary, a graphic designer or graphic artist is typically expected to have a degree in the field, as well as demonstrated graphic design skills in a portfolio. Common software skills include Adobe Photoshop and Illustrator, and InDesign Quark.
While this job title may seem like the most obvious choice when considering what your career may look like, but don't limit yourself. There are many, many options to look into and new job descriptions emerging every year.
---
2. User Experience (or User Interface) Designer
Both UX and UI design are primarily concerned with creating a positive experience for people as they interact with digital products.
While a UX designer is more concerned with the overall path a person takes to accomplish a goal, a UI designer focuses on the look and consistency of each step of the process.
There is no single path that user experience designers follow to break into the field. You may consider a UX & Interface Design program to launch your career. Other relevant degrees include Graphic Design & Multimedia, Web Design/Development, Psychology, Computer Science, or information architecture.
UX certificates are shorter programs of study than degrees, and are viable options as well.
While some professionals in the UX and UI industry are experts in creating digital art, others focus on user testing or generating complex marketing analytics. There is no one-size-fits-all career in this realm, it all depends on your own talents and interests.
---
3. Web Designer/Developer
Web designers and developers create and maintain websites, through a combination of technical and visual skills. While a web designer focuses more on the layout and look of a website, a developer focuses more on its programming.
However, there is overlap between the roles, and often one person will do perform functions related to both. A professional web person who knows both front and back-end scripting languages is called a full-stack developer.
If you're looking to get highly technical, consider a certificate or degree program in Computer Science or Web Development.
Just as graphic designers work in just about any industry, so can a web designer or developer. This is because most business functions are now conducted in the digital realm.
Much like a graphic designer, a web designer or developer uses a portfolio of past projects to demonstrate their skills. Coding schools and colleges help you begin to develop a portfolio.
To get started, read up on Mission College's certificates in Web Development and Web Design.
---
4. Production Artist
A production artist assists design teams in producing advertising, packaging, and other relevant graphics. Essential members of a creative team, production artists are the "doers" who make sure creative deliverables are produced according to specifications and on-time.
At times, the differences between a graphic designer and production artist are blurry, especially on smaller creative teams. In general though, a production artist is less involved in the brainstorming of a project and more active in making it happen.
Successful production artists often have a degree in graphic design, as well as working knowledge of typography, HTML5, CSS3, Adobe After Effects, and other Adobe Creative Suite products.
If you land a job as a production artist, chances are there will be ways to climb the ladder to more senior roles like art or creative director with hard work.
---
5. Digital Illustrator
As a digital illustrator, you'll create original artwork to help sell films, video games, advertisements, and other products. Unlike traditional illustration techniques, a digital illustrator uses software programs to generate art.
You may work for a film studio, a gaming company, a publishing house, an ad agency, a fashion brand, or in another professional creative environment. Furthermore, digital illustrators may work on a freelance, contract, or in-house basis.
Here in the Bay Area, typical employers of professional digital illustrators include software companies like Adobe or the gaming company Electronic Arts.
While some digital illustrators have four-year and advanced degrees, the most important tool you must possess to land a job is a robust portfolio.
As a student in the Digital Illustration certificate program at Mission College, developing this collection of work is our primary focus.
---
Start on Your Graphic Design Career Path
The field of graphic design is so versatile, the only limits are those you set on yourself. If you're interested in pursuing a creative career, taking the first step is enough to get the ball rolling toward your bright future.