Current Concertmaster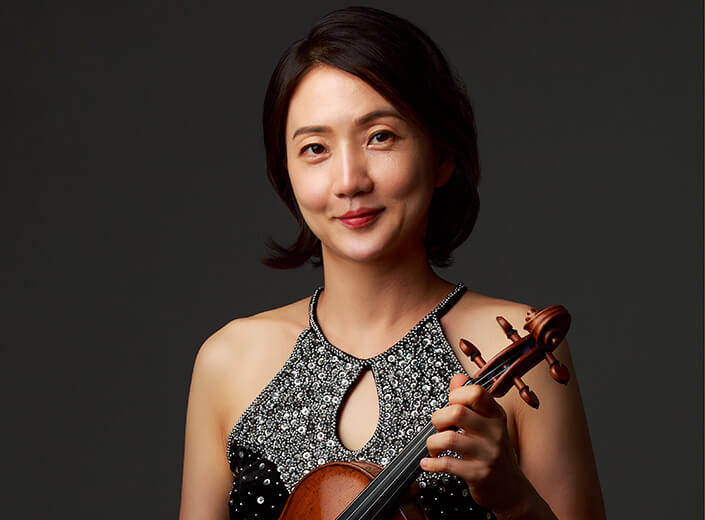 Chag-Hee Lee
A native of Seoul, Korea, Chag-Hee Lee graduated from YeWon School and Seoul Arts High School. After completing her degree at the Korean National University of Arts and Music, she received her Master of Music degree from Indiana University and Doctor of Musical Arts degree from the University of Maryland.
As an educator, Ms. Lee is an Adjunct Faculty member at Mission College in Santa Clara and the College of San Mateo and has served as a jury member for the Mission College Symphony Young Artist Concerto Competition since 2014. She has also been included in the lecturer pool at San Francisco State University since 2017.

In 2006, Ms. Lee won both the Special Presentation Winner Series put on by Artists International and the New York Public Library Concert Series. Artists International sponsored her New York City debut recital at Weill Recital Hall in Carnegie Hall and the library sponsored her recital at Donnell Library Center.
Her performance at Carnegie Hall was described by the New York Concert Review as "focused and pure on all strings and in every register. Her facility and intonation are excellent and her technique is secure and disciplined.
Ms. Lee has appeared as concerto soloist with the Seoul, Ureuk, and Indiana University Symphony Orchestras in addition to the Mission College Symphony and Maryland Sinfonietta.
She has also participated in music festivals in Aspen, Bowdoin, Banff, and Flaine along with the National Orchestral Institute at the University of Maryland. From 2005 to 2007, she served as a substitute violinist with the Baltimore Symphony.
Ms. Lee has been an active member of Symphony Silicon Valley and served as concertmaster of Mission College Symphony since 2008 as well as performing in the Sonnet Ensemble since 2013. She has also served as concertmaster of the California Concerto Weekend for Amateur Pianists in 2014 and 2017.
She is thrilled to play in Symphony Silicon Valley with so many warm-hearted and very talented musicians. She is a huge fan of film and animation, so her two favorite concerts with Symphony Silicon Valley were the Joe Hisaishi Symphonic Concert - Music from the Studio Ghibli Films in 2018 and the Lord of the Rings film trilogy with Maestro Shih-Hung Young in 2015.
Currently, she resides in Palo Alto, California, with her husband, software engineer Seong-Wook Joo, and their son Joshua, who is very talented young violinist.