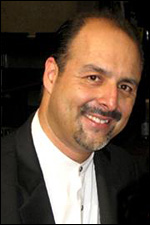 Joseph Ordaz
Director of Symphony Orchestra
Music
Joseph.Ordaz@wvm.edu
Recognized in the Bay Area as both a conductor, pianist and educator, Joseph Ordaz is currently the Music Director and Conductor of the Mission College Symphony in Santa Clara, California. He is also the Artistic Director and Conductor of the California Concerto Weekend for Amateur Pianists.
Other orchestras that he has recently led in performance include the Berlin Sinfonietta, Winchester Orchestra, New Bridge Chamber Orchestra, Ohlone Symphony Orchestra San Francisco State University Symphony and Mercer Symphony. He has worked with many of the top conductors including Gustav Meier, Jorma Panula, John Farrerr, Diane Wittry, Donald Thulean, Adrian Gnam, Daniel Lewis, Marin Alsop, Joann Falletta, Jorge Mester, Kirk Trevor, Harold Farbermann, Mitchell Sardou Klein and William LaRue Jones.
He has actively participated in workshops including the London Conductor's Workshop at the Royal Academy of Music, International Conductor's Workshop's in Berlin, Germany; Conductor's Guild Workshop's with the Buffalo Philharmonic and at the Cabrillo Festival of Contemporary Music; California Conducting Institute with the Bakersfield Symphony, "Beyond the Baton" workshop with the Norwalk Symphony and others.
Joseph began studying the piano at age eight with Faith Peterman while growing up in Gilroy, CA. He received his Bachelor of Music Degree from San Jose State University and his Master of Music Degree from the San Francisco Conservatory of Music. He studied piano with John Delavoryas and Alfred Kanwishcer at SJSU, Milton and Peggy Salkind at SFCM, and Miyoko Lotto in New York.
He has also studied harpsichord with Laurette Goldberg at SFCM and Stephen Mello at SJSU. He has performed as piano soloist with the Ft. Worth Chamber Orchestra, San Francisco Concerto Orchestra, Nova Vista Symphony, Mission Chamber Orchestra, Mission College Symphony, South Valley Symphony, San Jose State University Symphony, and New England Symphonic Ensemble, and at the TCU/Cliburn Piano Institute and University of Maryland International Piano Festival. From 1991 - 2001, Mr. Ordaz also performed as a member of the Monterey Symphony and has performed in numerous recitals throughout the Bay Area including solo and chamber music.
Mr. Ordaz frequently serves as an adjudicator for competitions including the Stanford University Orchestra Concerto Competition, Young Pianist's Beethoven Competition at SJSU, Nova Vista Symphony Young Artist Competition, Marian Filice Young Pianist Competition at Gavilan College, Musicappasionata at West Chester University and as Coordinator of the Olympiad of the Arts Piano Competition at West Valley College.
He has also served on the Board of Directors of Steinway Society - The Bay Area and presented pre-concert lectures for their concert series. Mr. Ordaz has previously taught at Gavilan and Foothill Colleges and for over ten years served as Chair of the Music Department at Mission College in Santa Clara, CA where he has been on the faculty since 1997.
---
Education
MM, San Francisco Conservatory of Music
BM, San Jose State University
---
Courses Taught
Music 5; Music Fundamentals
Music 10; Music Appreciation
Music 30 A/B; Beginning Piano
Music 31 A/B/C; Intermediate Piano
Music 39 A/B/C/D; Advanced Piano Masterclass
Music 48 A/B/C/D; Symphony Orchestra
Music 90; Music Lab
---
Fast Facts
Won first talent contest playing the piano at age 10. Astronomy enthusiast. Played High School baseball.
---
Favorite Quote
"Where words leave off, music begins." - Heinrich Heine