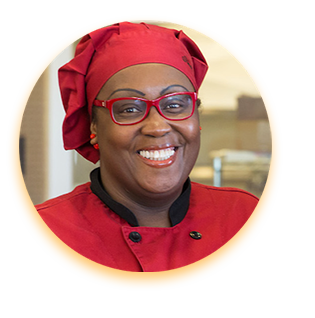 Rhonda Manning '01
Chef, Owner of House of Soul Food
I was Inspired by my mother and grandmother's ability to create delicious traditional southern style dishes and feed the entire neighborhood. I was drawn to into the kitchen at an early age. I initially chose to pursue a career in electronics, and planned to earn a degree in electrical engineering. However, in 1999, a life event caused me to change my plans and I enrolled in Mission's Hospitality Management program.
The program was both challenging and comprehensive, and I learned everything I needed to know about how to own, operate, and manage a restaurant. I opened the doors to my own business only four days after commencement! I love serving southern comfort food because it brings people together, nurtures community, and makes people happy.
My advice to all future chefs is to attend all your classes and pay close attention to what's being taught Everything you learn will be of great benefit and will help you to be successful in your culinary career.
---
Degrees
Attended 1999-2001
A.S. in Hospitality Management