Mission College Outreach
Program Information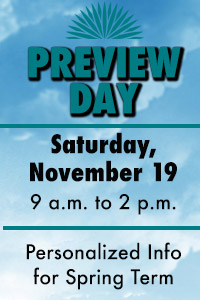 Click Here for more information on Preview Day
Our Team
Katy Fitzgerald
katy.fitzgerald@wvm.edu
408-855-5070
Connor Keese
connor.keese@wvm.edu
408-855-5072
Lucia Moreno
lucia.moreno@wvm.edu
408-855-5067
Welcome!
We are excited you are interested in Mission College! Whether you are looking to take a few classes, earn a certificate, or ultimately transfer to the school of your dreams the Outreach team is eager to work with you to make it happen here at Mission!
What we do
The Outreach team partners with the Welcome Center, our Student Ambassadors, and campus partners to frequently showcase all that Mission College has to offer at high schools, college fairs, and community events. From engaging academic programs to dynamic student organizations and committed support programs, Mission College has what you are looking for!
If you would like to request a Mission representative to speak at your school or community event OR if you would like to bring a group to visit Mission College please contact one of our team members listed above and we will be happy to work with you!
Our commitment
The Student Outreach team is committed to increasing college access and fostering student success, particularly among underserved and underrepresented student populations. We work closely with students and their families, counselors, community based organizations, and campus partners to provide vital, accurate information as well as a welcoming and supportive environment to meet the needs of our diverse student body.
Future Students and Parents
Not sure how to get started? Have questions about a program or major and don't know who to call? Want to talk to a current student about what it's really like at Mission? The Welcome Center is the right place to start! Visit our Future Students pages for more information.
High School Students
If you are a Junior or Senior in high school, you may be eligible to enroll in classes at Mission College and earn units towards graduation and college credit. To enroll at Mission College, high school students must complete the Mission College application, fill out the Concurrent Enrollment Form (PDF), obtain necessary signature, and come in person to the Admissions & Records Office. The enrollment period for high school students begins two weeks prior to the first day of the semester / term.
Fostering Success: AIM (Academic Initiative Moves) Higher
This site is geared for current and former foster youth who are attending or planning to attend Mission College. As part of the Foster Youth Success Initiative (FYSI) in the community college system, we have put together this place for information, eligibility determination, resources for both on & off campus and who can help. The blue heart symbolizes our commitment to your success. Learn more...
Questions?
Connor Keese
connor.keese@wvm.edu
408-855-5072

Service Area Outcomes
SAO 1: Surveyed students will indicate that Outreach and Recruitment efforts influenced their decision to register at Mission College.