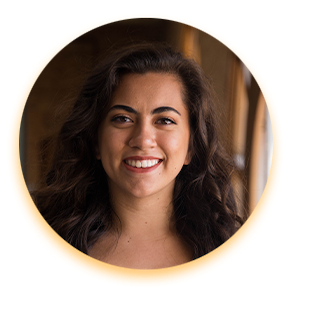 Camille Mercier
Bioengineering Transfer Student to Berkeley
Mission College was integral to my success by helping build my Engineering core competencies (math & science) in an environment that cared about my academic goals. Professors like Dr. Faris created classes that are just as challenging as at transfer universities, but that offer the resources you need to do your best.
My first semester taking organic chemistry, I had a difficult time until someone from Dr. Faris' class sent me a link to her video tutorials and I learned so much through those that I purposely took her follow-up class the next semester and loved it. I never ever felt like she was going easy on us, but I always felt welcome to ask questions and spend time getting more help when I needed it.
I would also have not had anywhere near as much success transferring without Edrina Rashidi and the MESA program. Through MESA, I had the most fun job as tutor which helped me save for my transfer. But more importantly, Edrina pushed me and challenged me to apply to programs and opportunities that wouldn't have been on my radar otherwise.
Thanks to her, I joined the Stanford Summer Community College Premedical Program (SSCCPP) and had the chance to learn from and gain mentorship for an entire summer with incredible Stanford medical professionals. To this day, I carry many lessons from that summer about racial inequities in healthcare into my job and my perspective on what I can do to help as a bioengineer.
She also helped me find and apply to a summer research program at UC Santa Cruz, an experience which significantly helped me find more research opportunities once I transferred to Berkeley. She also reviewed all my college applications and helped me feel so much more confident about my potential for success as a transfer student at Berkeley.
Finally, I loved having Dr. Bell as a professor in her plant biology course. She opened my eyes to a totally different world centered around ecology, and her class field trips showed me parts of California that I had never seen before, and that I frequently go back to because of her. She also co-founded a tropical ecology field studies class that I was lucky enough to get a scholarship for, through the help of MESA.
I had the chance to go to Costa Rica for the most incredible trip of my life and study plants and animals I had never seen before. Her classes helped me feel like I had a truly multi-faceted college experience.
---
Degrees
Attended Mission 2015 - Spring 2017
B.S., Bioengineering
---
Programs Participated In