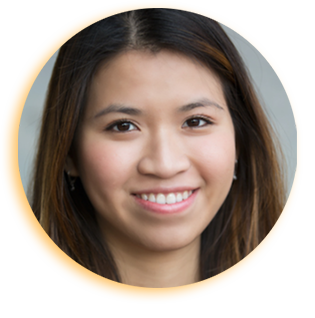 Vy Tran '11
Master's Student in Chemical Engineering
International Center
Country of Origin: Vietnam
Mission College helped me a lot. When I first came to the U.S., my English was poor, and I would have never imagined that I was able to accomplish what I have. At Mission I met so many people who encouraged me and helped me along the way.
My journey from Vietnam to America started at the Institute for International Studies (IIS). Because of my limited English, I enrolled in the IIS classes to improve and learn about the academic expectations and culture in the U.S.
During my studies at Mission College, I worked at the International Student Center as an assistant and helped other international students at the college. This work experience helped me develop confidence and leadership skills.
After I completed her Bachelor's degree in Chemical Engineering at San Jose State University (SJSU), I started working for Applied Materials as an Engineer. Now, I'm working on my master's degree at SJSU and my job is paying for it!
I also do research for NASA - I develop batteries that will be used in outer space.
I advise new international students is to be open-minded and welcome the new and unfamiliar opportunities and challenges that they will encounter.
---
Degrees
Mission College 2011

Bachelor's degree in Chemical Engineering

San Jose State University