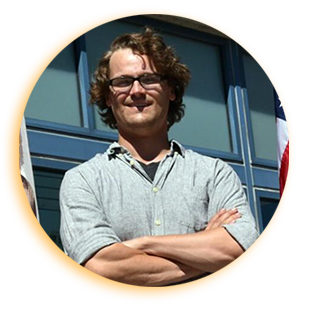 Justin Reynolds
Afghanistan Veteran to Business Major
VALOR Center
Less than a year ago, I was living in a van and ready to drop out of my Mission College classes. I would log into my online classes when I could find Wi-Fi and keep the camera off. I was struggling and didn't know where to turn. Then, I contacted the VALOR Center.
It took me more than a decade to find my way to Mission. I joined the U.S. Army out of high school and I served in Afghanistan as an infantry combat medic. I was on the front lines when I injured my back.
A lot of guys will say that wasn't even the hardest part of going to war — getting injured. The hardest part is when you come home and everything becomes a reality all of a sudden, everything that you just witnessed and dealt with or didn't deal with now all has to be dealt with. Especially when we leave the service.
Now you're thrown back into the real world at the same time having to deal with all these major, major traumas that don't allow you to transition into the civilian sector quite as easily. You're actually quite triggered all the time, so, it's hard to interact with people or go out into public.
That's why I'm 30 years old going to community college…it just takes time for some of us to really get a handle on our mental health and physical health before we can mature enough to actually take on college.
---
VALOR Center for Misson Veterans
I messaged the VALOR Center, and I'm like, "I'm really struggling here. I'm about to drop out of college. I can't do this right now." And they're like, "No, no. Let's figure this out." They checked on me every single day. They were so supportive and so sweet. They were just like angels during all of this. They did everything they possibly could to give me the help I needed. It's like they went above and beyond, way above and beyond.
---
Using a VA Loan to Buy Home
Mission College expedited emergency funding so I could pay for a hotel. They mailed me a Wi-Fi hotspot so I could consistently connect to my classes. They even used VALOR Center funds to help make sure my main focus was on school.
It was enough to finish getting the rest of my supplies and being able to buy some new clothes and not look homeless anymore, that was the biggest thing…that was the first time I'd been able to look nice in a while.
It almost brought me to tears. It is so sad how people treat homeless people. Then there are the bright ones, that's what Mission College was. They helped me not drop out of college.
I am now in the process of purchasing a piece of property in Arizona through a VA loan. I hope to use the land and the Business degree I'm currently working to start a sustainable farm. I know none of this would have been possible without the team at Mission College.
They care. They have a really good team there and you can tell they're a family, you walk into the Valor Center, and the moment you walk in, you feel like you're at home. That's so important for us veterans. To have a place where we feel safe.
They make you feel safe, continued Reynolds. There are no questions at all. If I walked in there and needed a shoulder to cry on or just needed a place where I could get away from the chaos of college, that's a safe place right there. That's so important for us to have.