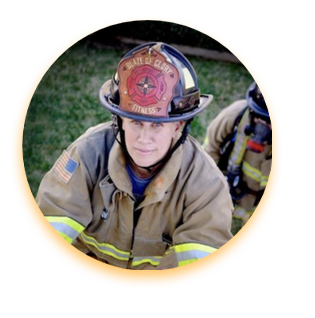 Shay Mountford '98
Firefighter and Fitness Coach
Fire Technology and EMT
I am a former student of the Mission College Fire Technology program and attended from 1996-1998. Because of the classes I took there, and all the effort and hard work I put in, I landed my dream job. I got hired by the Santa Clara County Fire Department in 2002 and still hold my position as a proud Firefighter and Engineer.
Years Attended and Degrees
Attended Mission

1996-1998

A.S., Fire Protection Technology
---
One instructor in particular stands out, Mike Burtch. He really encouraged me to stick to my dreams and never give up. As I advanced through my career, I got involved with academy teaching. Now I hold all of my state Fire Marshal Instructor Certifications. I pay it forward and teach others, like my Fire Technology instructors at Mission College taught me.
This also inspired me to develop Blaze of Glory Fitness to help prepare, train, guide and motivate potential firefighters. My goal is to get people physically fit, and help them pass physical agility tests, such as the CPAT to successfully complete a fire academy.
In addition, I provide consultations for oral board interview prep, resume building, and other services unique to firefighting. My program is taught by me as well, as other career firefighters who share my passion did.