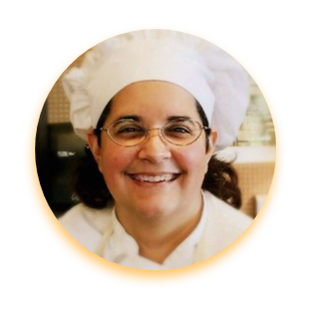 Julie Flores '18
Culinary Graduate
I decided to return to Mission College, after transferring and earning my four-year degree, to join the Hospitality Management program. I started slow with one class and that drove my passion even more deciding to go all in. I used my classes and projects as my incubator training, testing, and focused obsession to help make my food entrepreneurship dream come true.
I went to a small liberal arts college in a small town in Kansas. Mission College's community was very similar: intimate. I thrive academically in smaller classes where my instructors know me. Larger colleges, can drown out your voice as a student and individual.
If you need help it is more difficult to find what you need. Small, intimate academic environments where you actually can get to know your fellow student and instructor is the best environment for my learning style. Small isn't for everyone.
This time around I have had one umbrella 'best' experience. The Hospitality Management department has supported this big food dream of mine since day one. Chef Scott Brunson being my very first instructor emphasizing enthusiasm and passion toward food and wine to his students and always allowing them to push themselves.
Mr. Haze Dennis allowing me to run the social media channels for the department, Chef Daniel Arias for allowing me practice and opportunities on board the educational mobile food trailer and allowing me to promote this great department.
Chef Katrina Morkner for helping me out on concepts outside of the classroom. Chef Michele Pett always being open to questions about cakes and Ms. Susan McDonnell for taking many hours outside the classroom guiding me and answering questions about restaurant design and equipment.
The Hospitality Management program is a special place with special instructors. They care about the success of their students and celebrate with them. The information that I have not learned from this department, I am learning taking business courses in the Business department. Mission College is still helping me toward my goal of food entrepreneurship dreams.
I came back to college knowing all of the things I didn't do right the other go-arounds. I needed to evaluate what I needed to know to get a small business off the ground.
One was Social Media. I approached the department chair at the time if I could volunteer to do the social media for the department. I was given a yes. I took ownership of HM like it was my own small business. Since our department runs a restaurant, I reached out to guests of our Bistro (and even they became mentors or friends-special thanks to Ms. Heidi Garland for her social media guidance.)
I participated in all the extracurricular activities relating to the department as I could. With my visibility came more opportunities that may not have been given to others, just because I was involved. I even somehow ended up on the Sustainability Committee, which has been an awesome experience.
College is a special place where you are granted opportunities you don't get outside of school. It is a place you are allowed to make mistakes without any major detriment . Seize all of the great opportunities afforded to you. Get involved. Join a club or committee. Those opportunities lead to valuable relationships and networking opportunities.
Most importantly, share your goals and dreams with people you respect including your favorite or most challenging instructors. You never know when your passion is contagious and you find that small group of people willing to guide, mentor, or place a little more time in you because you have a passion for what you are doing. People want to help those that want to help themselves.
This summer with my Cuban Street Food concept (one I have been working on at Mission College), I was one of the selected applicants to the 2019Posbile Latina Entrepreneurship Boot Camp sponsored by Univision Bay Area, POSiBLE US, Eva Longoria Foundation and Televisa Foundation. It is part of a series of events that helps Latinas pursue their dream of entrepreneurship. (I might even get to meet Eva Longoria this month.)
---
Degrees
A.A. - Anthropology, May 2004
A.A. - General Studies, May 2004
Certificate of Achievement Food Services and Restaurant Management (2018)
Certificate of Achievement Fundamentals of Food Service Skills (2018)
B.A., Communications, 2002