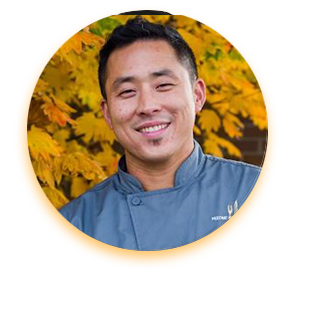 Shubert Ho '04
Managing Partner Feedme Hospitality and Restaurant Group
Department: Hospitality Management
A managing partner in the Feedme Hospitality and Restaurant Group, Chef Shubert Ho oversees eight restaurants in the Pacific Northwest. An alum of the Hospitality Management program at Mission College, he's come a long way and made a name for himself in the industry.
In his own words, "When I started at Mission College, my goal was really to be a chef. I didn't ever think it was possible to own a restaurant group with eight full concepts and 450 employees. The Hospitality Management faculty showed me that you can get along in this industry with compassion...I had great mentors."
Ho credits the training he received at Mission College for his current success, stating that "The foundation they [Hospitality Management faculty] gave me has been invaluable to this day. I still kind of remember the first time I saw Hayes Dennis filet a salmon and pin bone the filets," said Ho.
As a Culinary Arts student, Ho learned back of house tasks like profit and loss statements and ordering, in addition to cooking classes. This well-rounded education sets students to accomplish ambitious goals in the field.
Read more in the Silicon Valley Voice.
---
Degrees