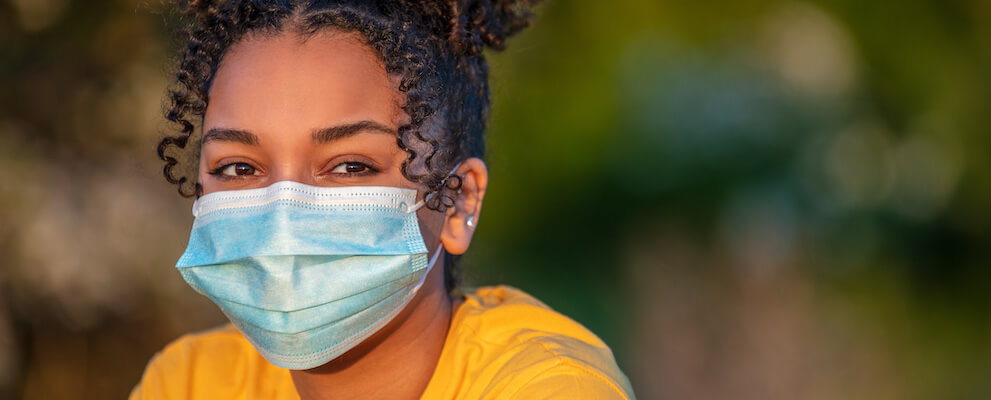 Face Coverings
Updated August, 2021
The West Valley-Mission Community College District (WVMCCD) requires all individuals; while at District owned, operated, or controlled facilities, to comply with all applicable public health orders. This includes the use of face coverings when required by the California Department of Public Health, as well as Cal/OSHA regulations and the District's COVID-19 Prevention Plan.
Face coverings are not intended to be a replacement for other illness prevention measures, including frequent hand washing; avoid touching your eyes, nose, and mouth when possible.
On June 15, 2021, the State of California issued updated guidance on the wearing of face coverings to help slow the spread of COVID-19. On June 17, 2021, Cal/OSHA adopted updated COVID-19 emergency temporary orders that include the continued requirement for a workplace COVID-19 prevention plan, and guidance on the wearing of face coverings in the workplace.
Currently Mission College is requiring everyone, while indoors, to wear face coverings.
Employees are required to adhere to these requirements and should review and be familiar with this information prior to arriving at work.
---
Relevant Resources
---
District
Guidelines (Summary)
"Face Covering" means either a surgical mask, a respirator including KN95 or N95 masks, or a tightly woven fabric or non-woven material of at least two layers. A face covering has no holes or openings and must cover the mouth and nose. A face covering does not include a scarf, ski mask, balaclava, bandana, turtleneck, collar, or single layer of fabric.
Fully vaccinated individuals (individuals that received the final shot in a COVID- 19 vaccination series at least two weeks prior) are not required to wear a face covering while on campus except in the following settings:

Indoors in a K-12, childcare, and other youth settings
Healthcare settings
Other campus locations (or events) identified by the District or as ordered by the CDPH 3.

Unvaccinated individuals must wear a face covering indoors. Unvaccinated individuals may remove their face covering indoors only when alone in a private space such as an assigned office, when alone in a vehicle, or when eating or drinking in a well-ventilated area while at least six feet or more away from others.
Face coverings are also recommended outdoors for unvaccinated individuals when six feet of distance cannot be maintained between people.
Employees may be exempted from wearing a face covering due to a medical condition, mental health condition, or disability. However, exempted individuals must wear an effective non-restrictive alternative, such as a face shield with a drape on the bottom, if their condition or disability permits it.
Face coverings may be worn at work, regardless of vaccination status, without fear of retaliation. 6. Employees are expected to come to work with their own face covering.
All Employees can request a face covering from the District. Unvaccinated employees that are working indoors or in a vehicle with more than one person may request an N-95 respirator from the District.
Face coverings and respirators will be provided at no charge. 8. Face coverings shall not display any offensive words, slogans, or pictures.
Employees involved in high contact/high risk positions (custodial staff, health services, public safety, etc.) will be provided with additional personal protective equipment as may be required.
---
Distribution
Employees requesting a face covering or respirator at work should make the request through their immediate supervisor/manager/dean.
Designated supervisors/managers/deans will track employee requests and maintain local inventory. 3. Designated supervisors/managers/deans should contact the District/College PPE Manager to request replenishment of face coverings.