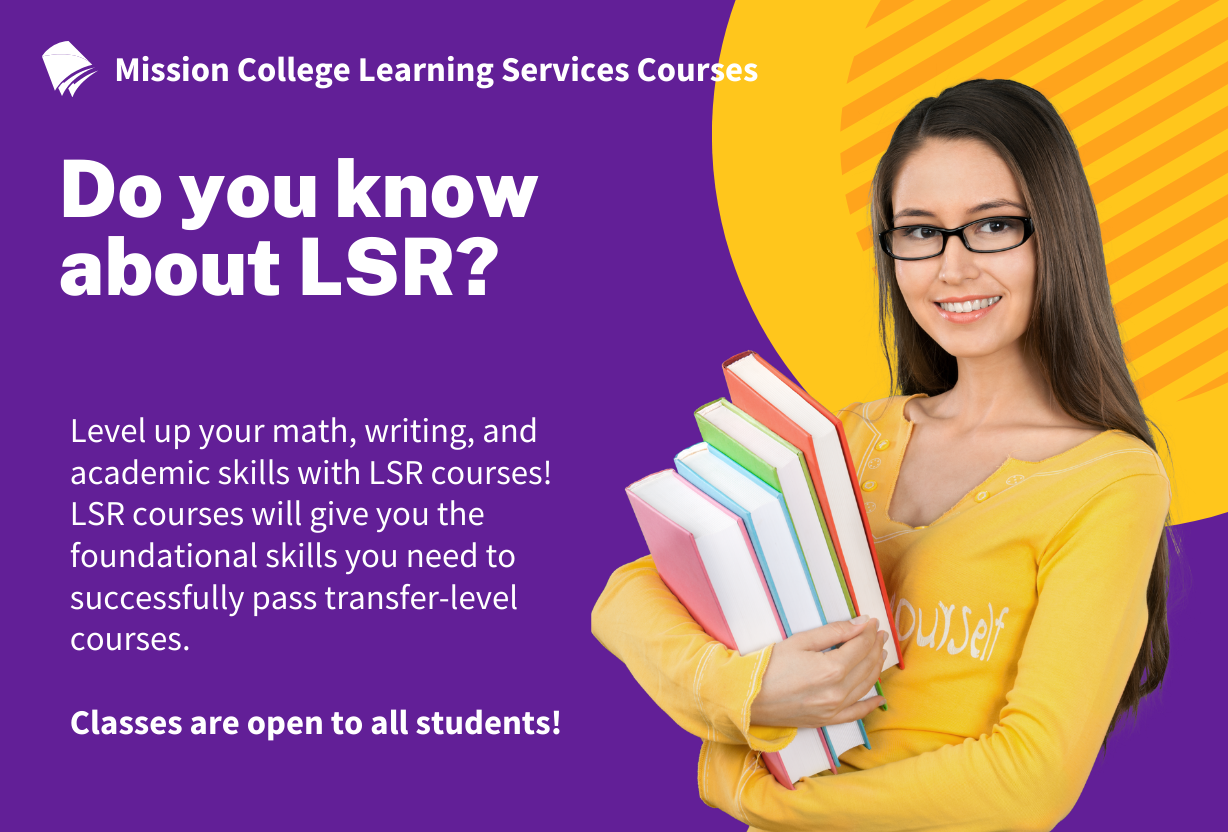 ---
Learning Services Courses
LSR.MissionCollege.edu
Search Classes | View all LSR Courses
Need Help with Writing or Math?
Courses are Available In-Person or Online
Our courses assist you with writing, Math, learning strategies, and technological skills. Mastering these skills is key to your success in college courses and beyond.
---
LSR Courses
Course
Units
Subject
Instruction Method
Meeting Times

Math Strategies (LSR 942C)
NEW!

3.0 Units

LSR Support course for MATH 10

Must take course with Math 10

In-person or online

M/W 2:15-3:40

Learning Strategies for College Success (LSR 941)
3.0 Units
Academic study skills
Fully-Online
Basic Math (LSR 900)
3.0 Units
Basic Math
In-Person
Wednesday 12:40- 2:05p.m or online
Assistive Technology Lab (LSR 950)
1.0 Unit Lab
Academic Skills Study Lab
In-Person
T/TH 10:55 a.m. - 12:20 p.m.

Basic Writing Skills (LSR 940B)

NEW!

3.0 Units

LSR Support course for Eng 1A

Must take this course with Eng 1A

In-Person
T/TH 9:20 a.m. - 10:45 a.m.
Negotiating the College Web and Assistive Technology Environment (LSR 943)
3.0 Units
Learn about Zoom, Canvas, and assistive technology.
In-Person
Thursday 1:00 - 2:15 p.m. and online
Note: Mission College does not offer an AS/AA degree or Certificate of Achievement in Learning Services.