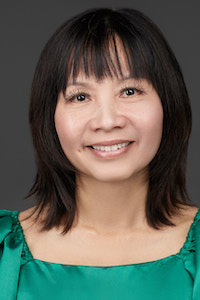 Julie Vu
Program Specialist
Welcome Center
(408) 855-5288
julie.vu@missioncollege.edu
Office Location:
SEC-105
Julie Vu has been working at Mission College for more than 22 years. She immigrated to the United States from Vietnam because of her father's political status. She graduated from San Jose State University with a major in Child Development. She feels rewarded in guiding and helping students to be successful in their academic lives.
With a "student-centered" philosophy, Julie provides leadership in her position at the Welcome Center, where thousands of students, prospective students, and families visit monthly. She takes the time to give personalized attention to everyone with whom she interacts with.
As the coordinator of the Welcome Center Ambassadors, Julie proactively works with each ambassador, mentoring them not only about their job roles, but also in important career, problem solving, and communication skills. Many students have grown under her support, changing from shy, quiet individuals to vocal, active team members.
---
Education
Bachelor of Arts in Child Development, San Jose State University
Three Certificates for Nursing Assistant, Foothill College
Program Director Permit for Early Childhood Education
---
Fast Facts
Julie promoted higher education outside of her work as a volunteer guest speaker for Mission College at Net TV, a local Vietnamese television station located in San Jose. In addition, Julie participates in fundraisers and sings in the choir as an active member of her church.
Julie has received the following awards:
1 time award for Board of Governors for the California Community Colleges and the Chancellor's Office Honor
2 time award for Program Excellent award from Faculty
2 time award for Campus Spirit from Classified Professional
1 time award for Leadership from Classified Professional
---
Favorite quote
"Yesterday is history, tomorrow is a mystery, today is a gift of God, which is why we call it the present."
Bill Keane