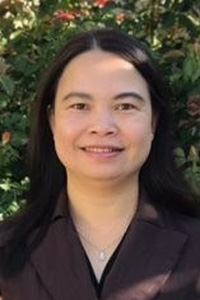 Ngoc-Tu Trinh
Office Coordinator
CalWORKS
(408) 855-5223
ngoc-tu.trinh@missioncollege.edu
Office Location:
SEC-144 (150)
Ngoc-Tu Trinh serves as the Office Coordinator of CalWORKs.
She also has experience working at child development centers with both low-income and full-cost families as well as a diverse range of student-parents, parents, children, and Alternative Payment workers for over 13 years. Her children attended daycare at Mission College while she attended classes.
She states, "I've had first-hand experience at Mission College CDC as a full-time student-parent with two young children of my own. Without the subsidized childcare program at Mission, I would not have been able to finish my degrees; therefore, it is one of the reasons why I wanted to work here at Mission College."
---
Education
Bachelor of Science in Accounting

San Jose State University

Associate of Arts in Accounting
Associate of Arts in Business
---
Fast Facts
Enjoys gardening and spending time with family and friends.
---
Favorite Quote
"If you really want to do something, you'll find a way. If you don't, you'll find an excuse ~ Jim Rohn