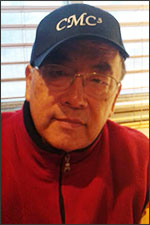 Karl Ting
Associate Faculty (Math)
Mathematics
karl.ting@wvm.edu
Office Location:
GC-114
Karl began his teaching career in 1972 with experience in elementary, junior high school, high school, and college-level mathematics. He started teaching Mathematics at Mission College in 1992; his interest remains in the foundation courses of Arithmetic, Math for Liberal Arts, and transfer courses for computer science and engineering, Discrete Mathematics, Calculus, and Linear Algebra.
Students often hear him say, "It's important to know why, and here is the connection." Although his professional title is Mathematics Instructor, he has always been a teacher. He shapes minds and addresses the broader scope of mathematics in the classroom.
In addition, Karl has been the past president of the Santa Clara Valley Math Association with over 25 years of writing mathematical contests at the secondary level. Although he is not as active as he once was, he remains networked with teachers who shape mathematics education in the state. He continues to attend and speak at professional conferences at both the secondary and college level.
---
Education
M.S., Mathematics and Computer Science

San Jose State University

B.A., Mathematics

San Francisco State University

A.A., Mathematics
---
Courses Taught
Math 910 - Problem Solving in Mathematics
Math 901 - Arithmetic Review
Math 900 - Arithmetic Functions
Math 902 - Pre-Algebra
Math 903 - Elementary Algebra
Math 903M/MX Elementary Algebra for the MAPS program
Math 81H - Honors Seminar in Mathematics
Math CM/CMX Intermediate Algebra for the MAPS program
Math B - Plane Geometry
Math C - Intermediate Algebra
Math CG Math for the Associate Degree
Math D - Trigonometry
Math G - Math for Liberal Arts
Math 1 - College Algebra
Math 2 - College Algebra and Trigonometry
Math 8 F - Finite Mathematics
Math 10 - Elementary Statistics
Math 12 - Calculus for Business and Social Sciences
Math 14 - Math for Elementary School Teachers
Math 19 - Discrete Mathematics
Math 3A - Calculus I
Math 3B - Calculus II
Math 4A - Multivariable Calculus
Math 4B - Differential Equations
Math 4C - Linear Algebra
---
Fast Facts
With his wife, Mary, he is actively raising three children and keeping the wonderment of education an important part of their lives. He bikes, jogs, and is trying to get back to tennis. Two things on his bucket list are to complete another marathon and finally finish his "man cave" so his kids can find dad more easily.
---
Favorite Quote
"Life is not a polynomial" - Karl Ting