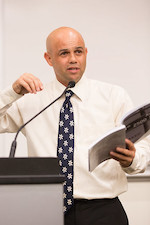 Donnelle McGee
Full-Time Faculty
English
(408) 855-5042
donnelle.mcgee@missioncollege.edu
Office Location:
SEC-248L
Donnelle McGee is the author of the novel Ghost Man (Sibling Rivalry Press), Shine, a novella, (Sibling Rivalry Press), and Naked, a collection of poetry (Unbound Content). His work has appeared in Controlled Burn, Colere, Haight Ashbury Literary Journal, Home Planet News, Iodine Poetry Journal, Permafrost, River Oak Review, The Spoon River Poetry Review, and Willard & Maple, among others. His work has also been nominated for a Pushcart Prize. His newest book, American Reverie, is a call-and-response poetry collection created with coauthor Synnika Lofton. Donnelle is the founder and publisher of Thera Books, an independent publishing house based in Sacramento, California.
---
Education
MA in Counselor Education, San Jose State University
MFA in Creative Writing, Goddard College
BA in Sociology and a Minor in Journalism, California State University, Stanislaus
---
Favorite Quote
Onward we go!