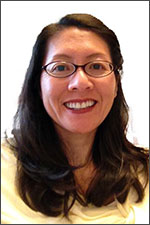 MyTra Nguyen-Vu
Full-Time Faculty (Child Dev)
Child Development
(408) 855-5396
mytra.nguyen-vu@missioncollege.edu
Office Location:
LIB-225
Education
Ed.D. in Early Childhood Education
M.A. in Child Development
B.A. in Psychology
California Child Development Director Permit
Program for Infant and Toddler Trainer Certification
---
Professional Memberships
The American Professional Society on the Abuse of Children (APSAC)
National Association for the Education of Young Children (NAEYC)
Childhood Education International (CEI)
---
Fast Facts
Dr. Nguyen-Vu knew that she wanted to be a teacher when she was eight years old. She started teaching at 18 years old at an afterschool program, and she made $4.25 an hour.
---
Favorite Quote
"A hundred years from now it will not matter what my bank account was, the sort of house I lived in, or the kind of car I drove . . . . but the world maybe different because I was important in the life of a child." ― Kathy Davis