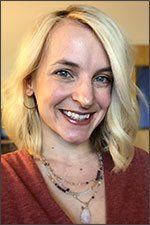 Ashley Faris
Department Chair (Chemistry)
Chemistry
(408) 855-5269
ashley.faris@missioncollege.edu
Office Location:
SCI-114
Ashley's primary area of expertise is the synthesis and characterization of small molecules, polymeric material, and nanoparticles. While in graduate school, Ashley focused on synthesizing nanoparticles with heat-sensitive linkers that could deliver a drug upon near-infrared light.
This research was funded by the National Institutes of Health to treat cardiovascular disease, but the same principles could be applied to cancer research. Ashley enjoys sharing her passion for nanomedicine with her students who may become doctors or research scientists one day.
---
Education
PhD in Chemistry, University of California, Santa Barbara
BS in Chemistry, Minor in Mathematics, Trinity University, San Antonio, TX
---
Courses Taught
Chem 012A: Organic Chemistry I
Chem 012B: Organic Chemistry II
Chem 001A/001AH: General Chemistry I
Chem 001B: General Chemistry II
Chem 030A: Fundamentals of Chemistry
Chem 081H: Chemistry Honors Seminar
---
Fast Facts
When not teaching, Ashley enjoys spending time with her husband, Justin, and her daughter, Lily Mae. Ashley enjoys cooking and eating good food with her family. Ashley's hobbies include dancing, Pilates, and hiking to work off the good food!
---
Favorite Quote
"To be content is greater than riches, so love what you have." - Epictetus