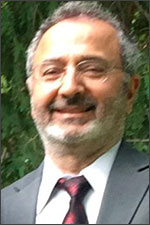 Salaam Al-Baker
Full-Time Faculty (Chemistry)
Chemistry
(408) 855-5253
salaam.albaker@missioncollege.edu
Office Location:
SCI-111
While in graduate school, Dr. Baker focused on the design, synthesis, and characterization of Gold complexes as an Anti-Rheumatoid Arthritis (instruments used: FT-NMR, IR, & UV-Vis).
Following his Ph.D., he worked as a "Research Assistance" and "Research Associate" at the following institutes:
University of Southern California, Los Angeles, CA
Syracuse University, Syracuse, New York
University of Texas, M.D. Anderson Cancer Center, Houston, Texas
He focused on the design, synthesis and characterization of Platinum compounds as an anti-cancer. He has published more than 40 papers (and Patent) in leading journals such as JACS (Journal of the American Chemical Society), Dalton Trans (RSC Publishing - Royal Society of Chemistry, UK), Cancer Research, etc.
---
Education
Ph.D., Chemistry (Organometallic)

Auburn University, Auburn, Alabama

Diploma, Petroleum Chemistry

University of Manchester Institute of Technology (UMIST), Manchester, United Kingdom.
---
Courses Taught
CHEM-012A: Organic Chemistry I
CHEM-012B: Organic Chemistry II
CHEM-01A/01AH: General Chemistry I, General Chemistry I, Honors
CHEM-01B/01BH: General Chemistry II, General Chemistry II, Honors
CHEM-02: Introductory Chemistry
CHEM--030A: Fundamentals of Chemistry I (General Chemistry
CHEM-030B: Fundamentals of Chemistry II (Organic and Biochemistry)
CHEM-081H: Chemistry Honors Seminar
---
Professional Associations
Two-Year Community College Chemistry (2YCCC)
American Chemical Society (ACS)
---
Campus Service
Faculty Recognition Award for Full-Time Teaching Excellence, 2010
Committees over the years: Academic Senate, Sustainability AMSA's mentor (the American Medical Student Association), OAC (Outcome Assessment Committee).
---
Favorite Quote
"Learn from yesterday, live for today, hope for tomorrow." - Albert Einstein