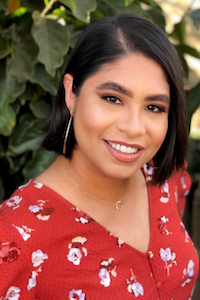 Vianey Topete
TRIO SSS/TRIO STEM Program Specialist
TRIO
(408)855-5192
vianey.topete@missioncollege.edu
Office Location:
SEC-146
Vianey Topete build her self-confidence, engaged in critical thinking, embraced curiosity, and learned to take up space as a Clerical Assistant in the TRIO program at SJSU. After graduating, Topete was still unsure of how to navigate the job market, and took on temporary positions. This included the role of an Interim Office Manager at an East San Jose charter elementary school.
This Interim Position eventually led her to take on a full-time role within a non-profit network that involved making high-stake decisions that directly impacted marginalized communities. She quickly advanced in the organization, and soon after was promoted to Senior Associate of Student Information Systems under the Finance Department; thus, supporting sixteen schools nationwide, four of which she was directly involved in opening.
In 2017, Topete accepted a position as a Program Specialist for TRIO SSS/TRIO STEM at Mission College.
TRIO Student Support Services (SSS)/TRIO STEM are projects federally funded by the U.S. Department of Education. These projects are responsible for increasing retention, graduation, and transfer rates of students who are first generation in college, low income, and/or students with disabilities.
It is our priority to offer quality and equitable support services in a personal and caring manner to promote academic success. She continued on with her education and earned an M.A. in Educational Leadership from Santa Clara University.
Topete says "My relationship with education has helped me evolve into becoming a critical thinker (questioning the "why"). James Baldwin highlighted the paradox of education being that once we become conscious, or cognizant of injustices in society (e.g., institutional racism), we need to challenge the systems in which we have been educated, as opposed to accepting them as truths without the possibility of transformational change."