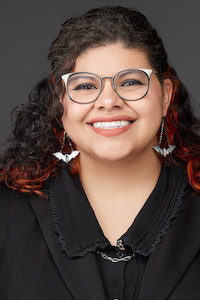 Araceli Lopez (She/Her/Ella)
Program Specialist for EOPS/CARE and CalWORKS
EOPS/CARE & CalWORKs
(408) 855-5057
araceli.lopez@missioncollege.edu
Office Location:
SEC-148A
Araceli was born and raised in San Jose. She studied Communication and English and earned her Bachelor of Arts from Saint Mary's College of California. She is a first-generation college student and a Puente and TRiO alumni.
Araceli joined the Mission College community as the Assistant Manager of the Mission College Bookstore in 2016. Recently, she transitioned to serve as the Program Specialist for the EOPS/CARE and CalWORKs program where she will continue to serve Mission College in a direct manner, fostering community and creating inviting spaces.
She has plans to pursue her higher educational goals with a Masters Degree in Higher Educational Leadership in the near future.
Outside of work, she loves baking and trying out new recipes. She enjoys attending comic conventions and making costumes and props as fun and creative outlets.