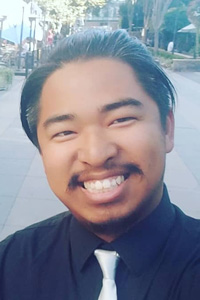 Raymond Gerardo
Educational Testing & Technical Specialist
Assessment Center
(408) 855-5099
raymond.gerardo@missioncollege.edu
Office Location:
SEC-139
After working a series of odd jobs throughout college, Ray found a job with Kapan Test Prep as an SAT/ACT test proctor. Soon after, Ray took an opportunity to work with a state licensure testing site before taking his first full-time position with De Anza College's DSPS. There Ray found purpose in working in the community college system and being able to assist students to start or restart their higher educational journey.
Later in the same year, Ray transferred to a position as an Assessment Specialist at Foothill College in their Assessment Center working with both assessment testing and accommodated testing in association with the Disability Resource Center. With the promotion of the Foothill Assessment Center supervisor to a position within the district, Ray was promoted to Interim Program Coordinator for the Assessment Center.
With an opportunity to work with Mission College as an Educational Testing Specialist, Ray jumped at the chance to grow and develop an Assessment Center with the changes that came with AB 705.
---
Education
Bachelors of Science in Industrial/Organizational Psychology with a minior in Filipino/Filipino-American Studies

California State University, East Bay
---
Fast Fact
Ray was a high school water polo coach for 10 years. In the final three years of coaching, he took over as head coach adn took his team to the North Coast Section (NCS) championship tournament for two out of three years.
---
Favorite Quote
"I see now that the circumstances of one's birth are irrelevant. It is what you do with the gift of life that determines who you are." - Mewtwo (Pokemon Movie)