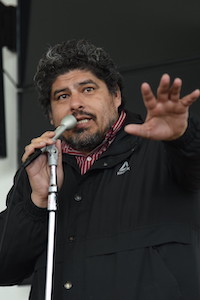 Javier Huerta
Full-Time Faculty (English)
English
(408) 855-5327
javier.huerta@missioncollege.edu
Office Location:
SEC-248C
Mexican American poet Javier O. Huerta was born in Nuevo Laredo, Tamaulipas, Mexico, and immigrated to Houston, Texas, in 1981. He is a graduate of the bilingual MFA program at the University of Texas at El Paso. Huerta's debut collection, Some Clarifications y otros poemas (2007), received the 31st Chicano/Latino Literary Prize from the University of California, Irvine.
He also authored American Copia: An Immigrant Epic (2012). The immigration and bicultural experience is essential to his work; the first line of his debut collection, "Today I'm going to the grocery store," is the sentence Huerta was given to write during his naturalization interview to become a US citizen.
He serves as a Puente Co-Coordinator.