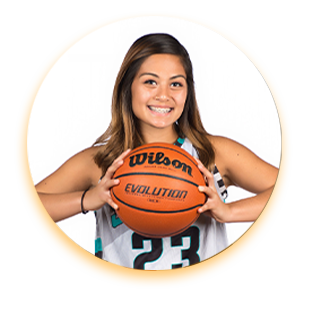 Jordan Passas '19
Department: Mission Saints
Jordan Passas, a pre-med major, was a two-time all-conference guard for the Saints. She finished second in scoring with 19.7 points per game. She went onto transfer to the University of LaVerne.
Jordan did not play basketball her junior or senior season, but Mission College Coach Corey Cafferata saw something in the Honolulu guard. She said "Knowing my days of basketball might be over because who would want a girl who didn't play high school, but God sent me a blessing with a phone call from Corey Cafferata recruiting me to play at Mission College. He made me a better player on and off the court. He taught me life skills to become stronger and face my challenges head on."
"Without him I wouldn't have become a Freshman All Conference player, a Sophomore 1st team All Conference player, a East Los Angeles All Tournament player, a College of the Dessert All Tournament player, and my FAVORITE ONE breaking the Mission College record for most points in a game at 48 POINTS yes I scored 48 points in one game!! Through all the obstacles I been through for basketball it payed off because I became a better and STRONGER player."
Jordan plans to one day become an OBGYN. In her career she averaged 16.8 points and 7.9 assists per game.