Puente Success Stories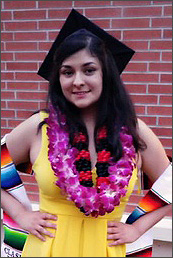 Yaritza Vargas
Mission College Psychology AD-T (2015)
CSU East Bay Psychology B.A. (2017)
How Puente has impacted my life:

I have three older siblings, so I spent my whole life receiving help from them. Although I was most grateful for it, at times it made me feel inept. Upon entering Mission, I was determined to succeed on my own. I went into the counseling office, asked for a major requirement sheet and left. I did not ask for help; I decided I would figure out everything on my own. Furthermore, I have always been a very shy person. I was that student that would sit in the back, not because I wanted to use my phone or because I wanted to socialize, but because I feared being called on. I never asked questions even if I wanted to, I would just sit there and hope someone had the same question. Near the end of my first year at Mission, I became completely stressed. I had two failing grades, which caused my GPA to decrease immensely and I had just found out that I took some unrequired courses. Luckily, I met the Puente Counselor and she offered me a place in the program. On the day of Puente orientation, I already felt comfortable with my cohort and they were all complete strangers. The Puente Program helped me overcome my shyness and it helped me get back on track for my transfer to a university. I know that if weren't for Puente, I wouldn't have transferred to a university, at the time I did and with the GPA I had. Perhaps I wouldn't have transferred at all because before being accepted into Puente I had started to give up. I can fully stand here and say that I have benefited from being part of the Puente program.
On advice to future Puentistas:

Communicate - Ask questions, make connections, be social, express yourself. Go to office hours, don't be afraid to ask for help.
Believe - Believe in yourself. Never attribute your failures internally, as stable, or global. In other words, do not believe that your failures make you ineffective, that they are permanent, or that you will fail in anything. Similarly, do not attribute your successes externally, as unstable, or specific. Do not believe that your successes are thanks to other people and things not including yourself, that they are only temporary, or that they are a one-time thing.
Notecards - For studying. Write, Test, Shuffle. Writing notecards and testing yourself repeatedly until you fully comprehend, memorize and learn the material is highly beneficial! Notecards definitely became my best friend.
Record - As a persistent day dreamer, I find it very helpful to audio record lectures. Many like to video record but I think having a visual will cause one's mind to wander off. Furthermore, record through writing notes. I can never keep up with professors in class; therefore, I record them and rewrite their lectures all over again.
---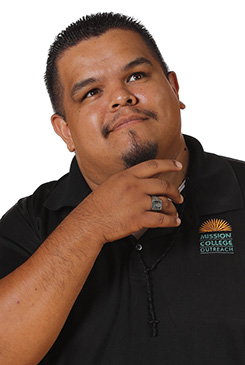 Angel Mora
Mission College Sociology AD-T (2017)
University of California, Santa Cruz
On recommending Puente to other students:
With Puente you will not only find assistance in the classroom but outside the classroom setting as well. The life-long connections and learning you will do will provoke you to keep pushing until you get to your destinations. Puente changed my life and it could and will change yours too!
Student Involvement at Mission:
Angel was awarded the 2017 Pister Scholarship to UC Santa Cruz and worked at numerous places on campus such as the Welcome Center and for the Hispanic Serving Institution Grant. He was a part of numerous campus committees and programs such as EOPS. Angel also co-founded the student organization, the Puente Club.
---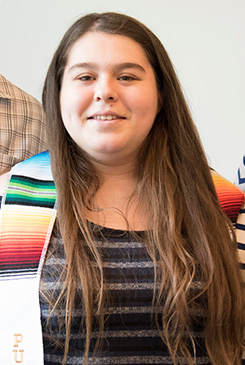 Natalie Cifuentes
Mission College Psychology AD-T, 2017
California State University Monterey Bay
On Advice to Future Puentistas:
Never be afraid to ask questions and always use all the resources available to you. Time management is also very important because you want to make sure you don't spend too much time procrastinating or over stressing about a class. Another piece of advice would be, to sleep the 7 or 8 hours you need! Do not miss your sleep!
On how Puente helped shape her future:
Puente has benefitted me in many ways. I am the first in my family to go to college and I had no idea what college was, besides going to class and Puente helped me with that. The Puente Project helped shape who I am today. I have developed leadership skills, communication skills, public speaking skills, and time management skills. Puente has also made me into a better student, especially with all the resources available and consistent counseling.